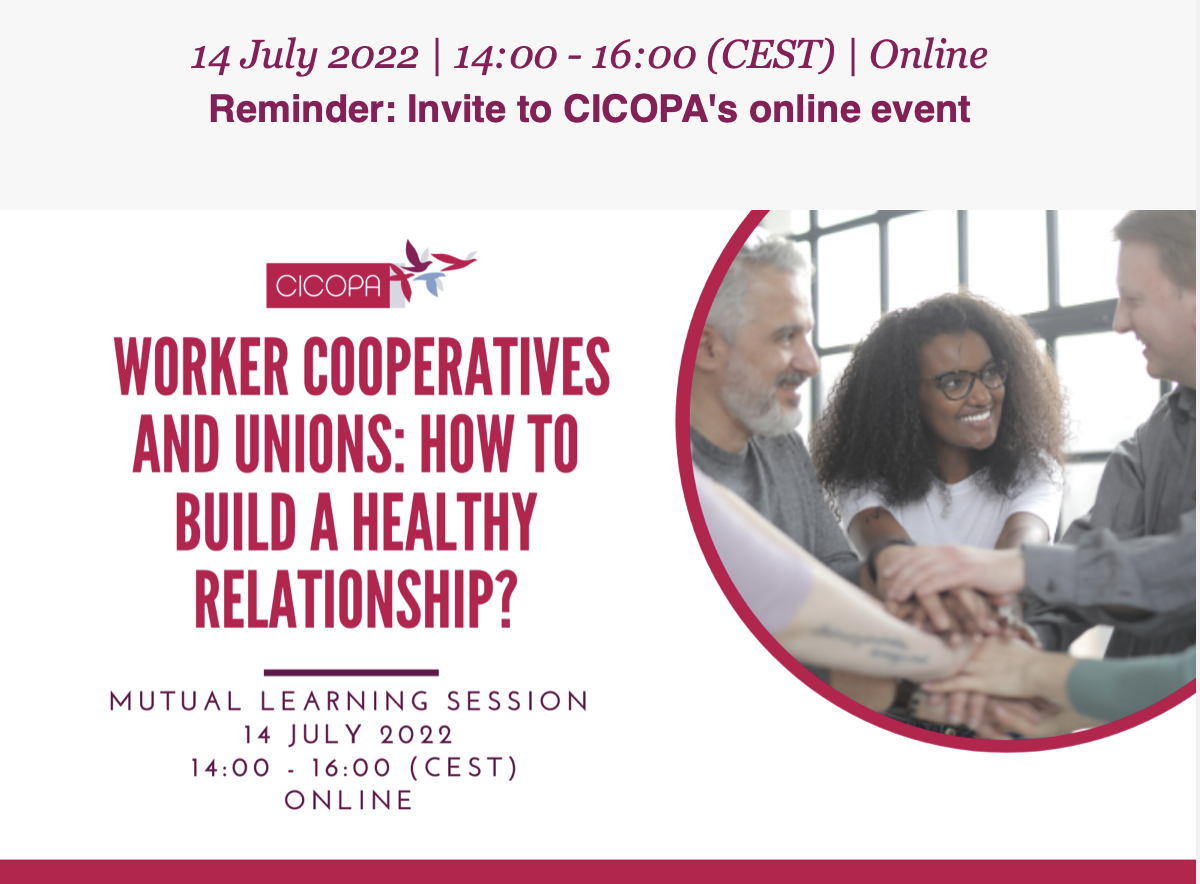 Our colleague, Alex Bird from union-coops:uk will be speaking at the CICOPA learning event on July 14th from 14h00 to 16h00 (CEST) 13.00 to 15,00 (BST)
This will be the 3rd edition of the CICOPA members' mutual learning session. This session will be the opportunity for members to meet and discuss: "Worker cooperatives and unions: how to build a healthy relationship?"
During the session, we will try to answer the question of why the relationship between worker cooperatives and unions is needed and understand the challenges and the opportunities emerging from it. We will hear from the experience of four good practices from around the world and we will learn how this co-existence manifests itself in different countries.
The good practices presented for this session will be:
Alex Bird from union-coops:uk, United Kingdom
union-coops:uk is a campaigning organization of cooperators and trade union activists promoting decent work and working to create fully unionized worker cooperatives in UK. In the "Manifesto for Decent Work" lays their idea behind the union-coop model, methods to set up such a structure, case studies, and a series of recommendations. Their call to action is clear, unions and cooperatives must come together.
Rebecca Lurie from Union Co-ops Council, USA
The Union Co-ops Council, a subcommittee of the US Federation of Worker Cooperatives, has been fostering cooperation between cooperatives and organized labor movements since 2007. They do so by gathering and distributing information around union-coop collaboration and history, creating toolkits and guidelines, and organize workshops.
Salonie Muralidhara Hiriyur from the Gujarat State Women's SEWA Co-operative Federation, India
Since its inception in the 1970s, the Self-Employed Women's Association (SEWA) trade union has worked actively to promote the rights of women working in the informal sector. Today, SEWA is one of India's largest and oldest national trade unions of informal workers with over 2 million active members across 18 states. Alongside workers' rights, SEWA identified the need for sustainable livelihood for women informal workers. The SEWA Cooperative Federation has been working with and for women workers in the informal economy since 1992. The Federation is committed to women's economic empowerment and self-reliance through collective enterprises that are owned, managed, and run by women.
Andrea Laguardia from Legacoop Produzione e Servizi, Italy
The relationship between the cooperative movement and the Unions in Italy has a long history. The Italian federation of Legacoop, established before labor unions, had the prerogative of defense and redemption of the working classes since its origin. Since the application of the National Collective Labor Agreements to cooperatives' worker members (Law 142, 2001), the relationship with unions intensified: cooperative federations joined the employer associations that stipulate national contracts with the unions and participate in the support activities provided by bilateral bodies. More recently, a historical agreement was signed to promote the establishment and consolidation of cooperative worker buyouts.
We know these are only some of the existing experiences in our network! Participants are welcome to join and share their own experiences and discuss them together.
Do you have an experience to share or questions/comments for the speakers? You can send them in advance through the registration form. They will be discussed during the meeting.